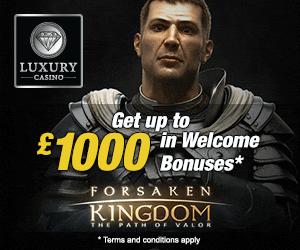 Situated in Knighstbridge, London, the Park Tower Casino offers patrons an elegant mix of sophistication and convenience.
The Park Tower Casino Review
Although it is a far cry from the exclusive clubs of Mayfair and Park Lane, Park Tower Casino still ranks high among the list of casinos that every tourist should experience while in the capital city.
Park Tower Casino boasts well-trained waiting staff and service personnel who are ready and waiting to attend your every beck and call to provide patrons with exemplary services, from a trustworthy, well-trained valet, to chauffeurs, a member of the staff will be waiting to fulfil every whim.
Recommended Online Casinos
Play at safe and trusted casino sites
Check out more top rated casinos
Find out other recommended casino reviewed and checked by Mayfair Casinos team.
Guests who wish to spend more time at the Park Tower Casino must book a room with one of the other high-end hotels in close proximity to the casino. Not to worry, however, as the Park Tower Casino is located conveniently beneath the Sheraton Park Tower Hotel, which allows them to offer special rates should a guest seek to utilise he services of both the hotel and the casino. Other hotels nearby include the Juneirah, the Mandarin, the Lanesborough, and the Berkley.
Because the Park Tower Casino has sought to build a name for itself in terms of member privacy and exclusivity, patrons may only use their mobile phones discretely while playing in the casino, and cameras (including mobile phone cameras) may not be used around any of the gaming areas of the casino. If you want to experience a private and discreet gaming experience in the heart of London, the Park Tower Casino is definitely among the best casinos to try out.
Gaming options
Guests who've never been to a casino will be glad that they chose to play their first games in the Park Tower Casino. Helpful staff will be around to teach patrons how to play the games in the casino, which includes 4 American Roulette tables, 4 Blackjack tables, a Three-Card Poker table, and a Stud Poker table, as well as 6 Electronic Roulette tables. Conversation with casino dealers is also allowed, so long as they don't distract from the game, so learning how to play the game is easy.
Don't worry if you don't know how to play. At Park Tower Casino, our experienced #dealers are happy to show you how. pic.twitter.com/66oUt9zVsl

— The Park Tower (@ParkTowerCasino) August 14, 2015
And of course, what would an exclusive casino be without private gaming rooms? The casino's Salon Privé is made available to customers who wish to experience a superior gaming experience with higher stakes and more privacy. Reservations must be made for the private gaming room, however, as affluent people often spend the night playing Punto Banco, American Roulette, and Blackjack.
Dining options
The Park Tower Casino's restaurant specialises in Modern European and Arabic cuisine, but the restaurant prides itself in an ever-evolving menu. As new techniques are discovered and new flavours become popular, the highly skilled chefs of the restaurant continue to modify and upgrade the menu offered to the casino's patrons. The wine list also continues to expand to accompany New World vintages and fresher flavours.
Guests will delight in enjoying their meal in the Balcony Restaurant, which has views over the gaming floor so they have a bird's eye view of the action. Meanwhile, those who are looking for a tipple can visit the bar found adjacent to the gaming floor.
Entertainment and events
Because the Park Tower Casino is open to catering and hosting corporate events and other special occasions, it's not uncommon to see private functions taking place in the casino's function halls.
Dress code
While a suit and tie is not required of members who wish to play at the casino or dine at the restaurant, the dress code for Park Tower Casino is smart casual. Guests dressed in sporting attire will not be entertained and may be refused entry.
Membership
One must be a member to be able to enjoy any of Park Tower Casino's facilities and services. Application for membership, however, is fast and easy, and it takes place on the member's first visit to the casino. All members are allowed to bring guests into the Casino as well, provided that they bring valid photo IDs to be presented at the reception area. Members will also be treated to a complimentary limousine service, on top of existing services for members.
Contact
Website: https://www.grosvenorcasinos.com/local-casinos/the-park-tower-london
Phone: +44 (0) 20 7235 6161
Fax: +44 (0) 20 7235 9784
Email:
Opening hours: Mo-Su
Address:
101 Knightsbridge
Knightsbridge
London
SW1X 7RQ
United Kingdom