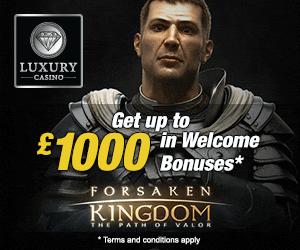 An award winning casino offering premier gaming experience, where classic style combines with state-of-the-art technology. Includes private and high stakes rooms.
The Sportsman Casino Review
Easily accessible via public transport, the Sportsman Casino is found in the West End of London, a short walk away from the Marble Arch tube station. The Sportsman boasts an atmosphere not unlike the high-class casinos of Las Vegas, while keeping an air of exclusivity that would only be possible in London.
Recommended Online Casinos
Play at safe and trusted casino sites
Check out more top rated casinos
Find out other recommended casino reviewed and checked by Mayfair Casinos team.
Open only from 12nn-6am every day, not everyone has the good fortune of visiting the Sportsman Casino, despite having an open-door policy. They also have a world-class restaurant, and even offer discount rates for "experience packages", which allow you to try out every service the casino has to offer, without burning a hole in your pocket.
Gaming options
The Sportsman is more known for its slots than anything else, but they do offer a range of other games, including Punto Banco, Three Card Poker, American Roulette, and Blackjack. They also have a Dice table, which lets gamers experience a new gambling experience, right in the Sportsman Casino. Unfortunately, there are no poker tables (and thus, no cash games) at the Sportsman.
Dining options
The award-winning Zaman Restaurant is found in the Sportsman Casino. Chef Mahmud Zaman has created an elegant menu (that is regularly updated to adapt to the times) that can help guests take a load off after a long night at the gaming tables. A posh, elegant bar is also found in the Zaman restaurant, and the restaurant itself has also recently undergone a makeover. The Zaman Restaurant is open from 6pm-1am daily, and tables can be booked online.
Entertainment and events
Although not widely known for its live events and activities, the Sportsman Casino more than makes up for it by offering its guests special promotions on their casino games. Participation, however, often requires membership to the casino.
Dress code
Because the Sportsman Casino prides itself in creating an exclusive environment, only guests wearing formalwear will be admitted into the casino. A jacket is required of men who wish to play at the casinos, and an evening gown or cocktail dress is expected for women.
Membership
Membership with the casino is not required, but it is highly encouraged. Membership is free, and it entitles you to special perks and privileges, including subscription to their loyalty programme, which allows players to accumulate points after availing of the casino's services. Points can be redeemed in a number of ways, with the most popular being funding a trip to one of the Sportsman's sister casinos in Las Vegas.
Contact
Website: https://www.thesportsmancasino.com/
Phone: +44 (0) 20 3642 9734
Fax:
Email:
Opening hours: Mo-Su
Address:
Old Quebec Street
Marylebone
London
W1H 7AF
United Kingdom